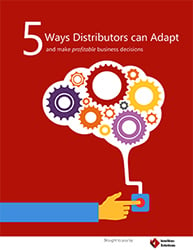 The past decade has brought extraordinary changes to the way we do business. The internet has matured, mobile devices are part of everyday life, and cloud-based solutions have gone mainstream. New trends, enabled by these fundamental developments, are emerging that will further impact your business. These days, distributors need to adapt to new ways of doing business to keep pace with their competitors and deliver what the customers need in a cost efficient manner.
To help companies looking to update their supply changing operations, we will take a look a 5 ways you can upgrade your systems
#2 Implement a CRM strategy
After getting your Accounting squared away, the next step is to make sure your internal teams manage and track customer and vendor relationships in a collaborative way. Data from your ERP and CRM solutions need to be synced so that you can establish a centralized customer database that is easy to access and update.
By using a solution such as Microsoft Dynamics 365, sales teams have an easier way to keep customer information updated and enjoy having all price agreements, rebates, personal details and complaints available at their fingertips. Data is easy to enter, access and share across the company providing a 360 degree view of your customers.
• Automated work-flows to support more consistent customer service — from order fulfillment to product quality.
• Simplifying connection of data across multiple distribution channels for better customer service and internal control.
• Breaking down the departmental silos of information to promote collaboration and seamless customer support.
Cloud-based CRM allows your business to focus on outcomes instead of getting bogged down by the limitations of outdated technology.
To read the full list, please download our White Paper 5 Ways Distributors Can Adapt and Make Profitable Business Decisions