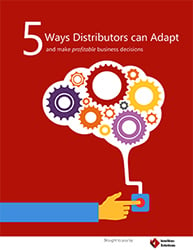 The past decade has brought extraordinary changes to the way we do business. The internet has matured, mobile devices are part of everyday life, and cloud-based solutions have gone mainstream. New trends, enabled by these fundamental developments, are emerging that will further impact your business. These days, distributors need to adapt to new ways of doing business to keep pace with their competitors and deliver what the customers need in a cost efficient manner.
To help companies looking to update their supply changing operations, we will take a look a 5 ways you can upgrade your systems
#3 Automate Order Processing
To help completely streamline and automate operations, todays distributors are using third-party distribution solutions designed to integrate with ERP. Through custom configurations and integrations, all products and transactions are fully traceable, data is automatically transferred between systems, and executives have full visibility across their supply chain.
Intellitec Solutions helped a client reduce order processing times by an impressive 95% by replacing paper-based, manual processes with efficiency and automation. By configuring a solution that has all their data within Dynamics GP and SalesPad, no paperwork was needed to quickly receive, process and invoice orders as they came in. All documents were created instantly with the proper number of copies and distributed exactly how the customer requested. This has greatly improved the customer experience, employee satisfaction and the company's bottom line.
• Forecast with past order history to predict sales and allocate resources properly
• Portals and dashboards that safely deliver information about customers, orders, inventory, — everything employees need to do their job.
• Scan products and product lot codes against open sales orders.
By automating your order processes, you give your business the foundation to improve visibility for your inventory and distribution management.
To read the full list, please download our White Paper 5 Ways Distributors Can Adapt and Make Profitable Business Decisions