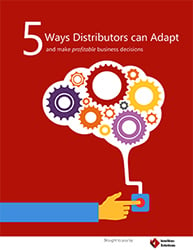 The past decade has brought extraordinary changes to the way we do business. The internet has matured, mobile devices are part of everyday life, and cloud-based solutions have gone mainstream. New trends, enabled by these fundamental developments, are emerging that will further impact your business. These days, distributors need to adapt to new ways of doing business to keep pace with their competitors and deliver what the customers need in a cost efficient manner.
To help companies looking to update their supply changing operations, we will take a look a 5 ways you can upgrade your systems
#4 Get a EDI solution - and make sure you use it
Most distributors look to improve by adding electronic document capabilities. But simply purchasing an EDI solution is not enough; you need to make sure you are fully utilizing it. EDI presents great promise and great challenges – it can be an involved task to implement barcode scanners and have it configured to keep all your order documents together. But in so far as EDI can effectively eliminate almost all of your paper files, and save lots of employee time, that investment of time and money is well worth it.
Investing in EDI will allow you to convert your business documents into a more readable format. You will gain the ability to streamline transaction processing, thus reducing delays and costly charge-backs. You can also minimize time-consuming, error-prone manual data entry, while increasing productivity without increasing staff.
• Access to the information that employees need without having to download spreadsheets or receive reports through email.
• Enable collaboration inside and outside your organization to build stronger relationships between vendors, customers, and employees.
• Access to critical information without the data being at risk.
EDI software is a strategic investment that will make you more competitive and pay for itself. Make sure to get an EDI solution that integrates with your ERP.
To read the full list, please download our White Paper 5 Ways Distributors Can Adapt and Make Profitable Business Decisions