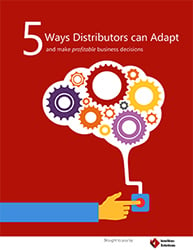 The past decade has brought extraordinary changes to the way we do business. The internet has matured, mobile devices are part of everyday life, and cloud-based solutions have gone mainstream. New trends, enabled by these fundamental developments, are emerging that will further impact your business. These days, distributors need to adapt to new ways of doing business to keep pace with their competitors and deliver what the customers need in a cost efficient manner.
To help companies looking to update their supply changing operations, we will take a look a 5 ways you can upgrade your systems
#5 Implement Business Intelligence and Analytics tools
Everyone knows – distribution is a daily race. Every morning you have to move product and inventory out the door in order to maintain the highest quality and keep your customers satisfied. You always need to "beat the clock" - whether its receiving product, inputting load sheets for the trucks, print all the paperwork for the drivers and get deliveries out in time. This can create a situation in which management does not have a holistic view of their business.
The Business Intelligence tools available today can alleviate this. By choosing and installing the right one for you, you can gain a comprehensive and integrated solution that will provide real-time insight into your financial and operational health. You can be certain you have cohesive and correct data, measure performance of every product in multiple ways and discover new sales and marketing opportunities. The enhanced reporting you will find in a new Business Intelligence tool will provide you the intelligence needed to make more informed decisions across your organization and assist you in forecasting.
• Automate compliance processes and workflows to eliminate the spreadsheets that your employees currently maintain.
• Simplify reporting that pulls data from consolidated information gathered from across the business.
With the flexibility of an integrated ERP, you will be able to adapt your processes to adjust to the ever-changing demands.
To read the full list, please download our White Paper 5 Ways Distributors Can Adapt and Make Profitable Business Decisions