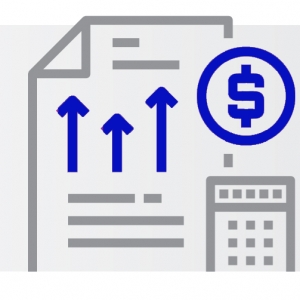 The Fitch Ratings September 2018 report cast a positive assessment for the continuing care retirement community (CCRC) market over the next year. In its sunny outlook, Fitch cited that stable entrance-fee collections and robust marketing efforts have contributed to strong operations. The report did warn, however, that "…heightened governmental reimbursement stress and staffing and labor woes" could result in pressures on operating margins. Forward-thinking leaders within the CCRC market need to operate with agility in this dynamic industry and have tight controls over costs to ensure continued profitability.

The Challenge to Produce Meaningful Reports
Although it seems as if data is plentiful, compiling that data into meaningful reports can be very challenging to financial leaders within CCRCs. Organizations that rely on antiquated ERP and accounting software platforms often find that they are spending countless hours dumping information into Excel and creating reports. Then, there's the tedious and inefficient process of making sure that all the formulae are correct, and that data is not out of place. Some CCRCs have shared that it can take 3 days to simply pull together month end reports. This manual reporting challenge is pronounced when legacy ERP platforms make it extremely difficult (or impossible) to get to the necessary info to prepare reports that are meaningful and actionable.
Opportunity for Insights and Actionable Data
We have heard from CCRCs that costs are rising, however, these communities often don't know why that is the case or how to hone in on the details to address the issue. By way of example, managing the significant expense of staffing and doing so in an optimal manner. According to the Fitch report, staffing levels (expenses) will be putting increasing pressure on operating margins. So, it's essential to schedule the "right" staffing levels – facilities that are overstaffed will be wasting money and eroding margin. By having meaningful reports, produced in a timely and efficient manner, CCRCs can have a better and more informed planning and staff budgeting process. Furthermore, having the ability to produce P&L reports by business unit, wing or even room provides the actionable insight to identify cost control issues that may be put in place.
While most business leaders would agree that having insightful reports would be massively beneficial, the cost to produce such report must be weighed. Staff time to manually compile disparate data can be unwieldly and/or there may not be available time (bandwidth) to go through of the effort of report production. There's also the added pressure when time constraints are placed on report production – especially in the case of mandatory regulatory deadlines. Time is not the only challenge as the report writers associated with legacy platforms often require a working knowledge of programming. Contemporary platforms offer user friendly capabilities to produce reports without programming skills or background.
The Benefits of Contemporary Reporting
Spending less time on manual, rote activities can free up managers to better use their time on data analysis versus compilation. Plus, managers must often commit a significant amount of time on the distribution of reports to administrators throughout their organizations. So, with a contemporary system, managers don't have to spend time sending out reports or getting calls saying, "Hey, where are my budget versus actual during the month?"
Accessing metrics that matter is also imperative in cost-control measures. Whether it is Per Patient Day (PPD) expenses or breaking down costs by housekeeping, dining or nursing, having one-click access to this insight can enable managers to take proactive actions before costs negatively spiral. Visibility into accurate data for cash in the bank, cash flows and APs is an essential requirement to run successful entity. Again, the key is cutting down on the time of entering information and having immediate and daily access to this vital information.
On the other side of the ledger, gaining visibility into how much revenue is generated from a payer source or from Medicare and Medicaid can identify where an organization's money is being made.
Building Reports Efficiently and Effectively
There are several ERP and accounting platforms that can provide tremendous new insights on costs and provide this information through action-based dashboards. CCRC operators must exercise caution when they choose a partner to implement these solutions. Make sure that your partner deeply understands the CCRC space and the terminologies and metrics that drive this industry. It's essential that the partner has hard-earned knowledge of resident-centric systems and how to integrate them with ERP, payroll and other solutions. By knowing what CCRCs require in terms of reporting will help to shape the way in which the chart of accounts is built. And, by partnering with an organization that understands the metrics of CCRCs and how it can manage those metrics, organizations are going to be able to provide a better resident experience for care and do so with a keen eye on costs.