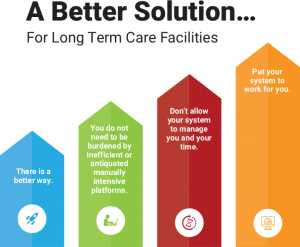 For senior care facilities, delivering a compassionate and attentive level of service in a cost-effective and efficient manner requires the support of a strong technology infrastructure. Intellitec Solutions delivers integrated accounting, clinical and business management solutions without compromising any of the financial power you need.
This series of blog posts looks at the 6 key ways Intellitec has helped senior living facilities handle their unique accounting requirements. While no 2 facilities are alike, we are confident you will hear stories quite similar to yours in this series.
Intellitec Solutions helps standardize Chart of Accounts and reporting across multiple sites
"Before" Situation:
Used a custom, home-grown proprietary UNIX based solution built from the ground up to handle accounting needs. The system interface was character-driven, not graphical, and numerous manual processes were required to collect and enter data and generate reports.
The system eventually became increasingly difficult to maintain, with extended periods of downtime required for maintenance.
They needed a turnkey, out-of-the box solution that required no customization and would be easier to maintain.
Desired a system with a modern, easy-to-use, graphical user interface along with the automation of manual processes.
"After" Situation:
Greatly improved performance in reporting and analysis.
Consolidated Chart of Accounts for all 25 communities standardizes general accounting
Customized FRX reports aggregate data efficiently and speed up financial reporting
Many consulting organizations can implement financial and accounting systems. However, there are few, if any, that can match Intellitec's depth of experience in the long-term care community including serving over 450 facilities as clients. Once you have had a chance to read all our success stories, contact us to find out what we can do for you