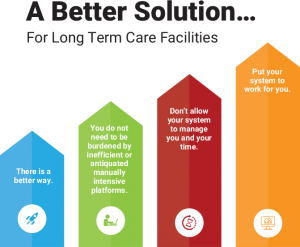 For senior care facilities, delivering a compassionate and attentive level of service in a cost-effective and efficient manner requires the support of a strong technology infrastructure. Intellitec Solutions delivers integrated accounting, clinical and business management solutions without compromising any of the financial power you need.
This series of blog posts looks at the 6 key ways Intellitec has helped senior living facilities handle their unique accounting requirements. While no 2 facilities are alike, we are confident you will hear stories quite similar to yours in this series.
Intellitec Solutions helps LTC Facility Gains More Flexibility, Insight and Cloud-Based Convenience
"Before" Situation:
The organization had been using Financial Edge for more than a decade. The system had some serious limitations that were causing frustration for the finance team.
System was not user friendly. Unable to drill down into its data or get the needed reports from Financial Edge.
System was very time-consuming
The chart of accounts was another big challenge. Over the years, the number of accounts and funds setup in the chart of accounts was astronomical. Everything had a separate account and if you printed it out, it was about 25 pages to sort through.
Simplification was essential.
"After" Situation:
Simplified Journal Entries where they can just go in and make necessary corrections while maintaining paper audit trails, which has resulted in a big savings of time and frustration.
Consolidated Chart of Accounts. By using Dimensions and fixed assets, hundreds of accounts have been substantially consolidated and streamlined. Accounts and funds are more organized than ever and make sense. A 25-page printout of accounts has been reduced to 3 easy-to-read pages.
Many consulting organizations can implement financial and accounting systems. However, there are few, if any, that can match Intellitec's depth of experience in the long-term care community including serving over 450 facilities as clients. Once you have had a chance to read all our success stories, contact us to find out what we can do for you